One-on-One
Personal Training
Our one-on-one personal training is ideal for those seeking high levels of personal attention and accountability, uniquely varied workout routines designed to accomplish your specific goals, and the best results in the least amount of time possible. Our NASM-certified trainers work directly with you to develop and implement a functional training and nutritional program to ensure that you reach your goals in a safe, comfortable, and enjoyable environment. Our trainers use the four pillars of fitness to ensure that you achieve your goals in the shortest possible timeframe, and use our dotFIT website to help monitor your progress and hold you accountable in ways never before possible.
Our trainers receive extensive continuing education to stay up-to-date on the most successful fitness trends, and incorporate a number of fun, functional exercises that are designed to provide you with amazing results. No matter what your goals, our personal trainers can help you reach and exceed them faster than you ever thought possible! For more information, please talk to one of our NASM-Certified personal trainers or a membership coordinator at a FitClub location near you.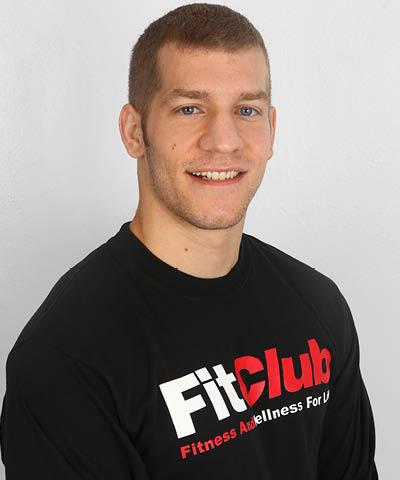 Adam Martin (FitClub West)
FitPro
Adam Martin (FitClub West)
FitPro
Certifications
Dotfit Nutrition/Exerspy
CPR/AED
NSCA - CPT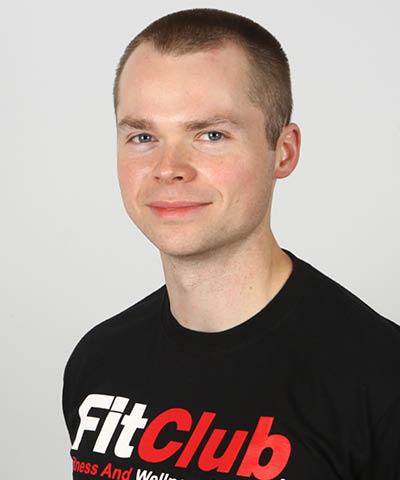 Mike Purdy (FitClub South)
FitPro
Mike Purdy (FitClub South)
FitPro
Mike is a NASM certified personal trainer. He has been helping clients reach their fitness goals at FitClub for six years. He graduated summa cum laude from Millikin University where he earned his bachelor's degree in Exercise Science Fitness and Sport. At Millikin, he interned with the track and field team where he designed and implemented the strength-training program for sprinters and jumpers. He is currently working toward his master's degree in Exercise Physiology from Southern Illinois University Edwardsville.
Certifications
NASM CPT
DotFit Nutrition/Exerspy
CPR/AED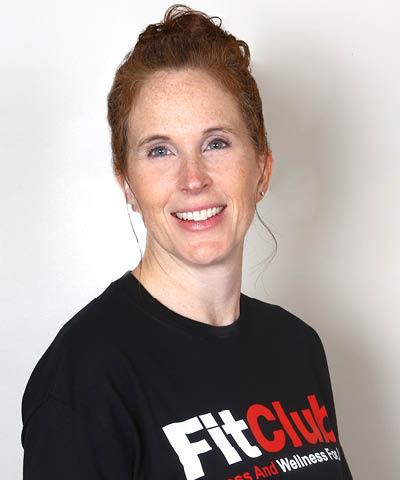 Becky Eiter (FitClub North)
FitPro
Becky Eiter (FitClub North)
FitPro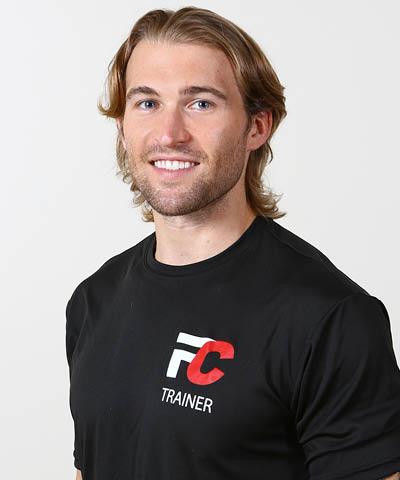 Grayson Wescott (North and South)
FitPro
Grayson Wescott (North and South)
FitPro
My name is Grayson. I'm a new Personal Trainer at FitClub.
The first real gig I had was serving in the United States Marine Corps! After graduating from boot camp and completing Infantry Training Battalion to become a macho gunner, I was deployed twice. I had multiple meritorious masts and a couple certificates of commendation. All in all it was a very cool experience.

This is my seventh year as a health and wellness professional. I started at my first club in Newport Beach CA, Equinox. I learned a ton. This was a great start to my training career, and helped me land my next gig. Somehow I got lucky enough to work at the prestigious RestoRPI, which was also in Newport Beach, where the likes of Clay Jones, Adam Ricardelli, Kurt Weber, Steven Sanada, Chris Martin, Ricardo Rodriguez, and a few others who were literally the top of the food chain in the training world, ran their respective businesses. I was there for almost 2 years. 

One of the best weightlifters in the world had a gym in the Long Beach, CA and I got hooked up with her. Caitlin Hogan was very good to me, and I have to say I learned the most from this woman. She was phenomenal, from how she conducted herself, to how she trained. She was ranked 4th in the world in Olympic weightlifting and our gym was a  Team USA affiliate.

After a year there, I was getting ready to have a baby. On top of that, my mother was ill and being home where she could spend time with her granddaughter seemed to be the best move. So here I am!

I love spending time with my wife, daughter, and our beautiful boxer. Talking shop makes my day. Feel free to come ask me anything when it comes to health and wellness or food. This is the third year I have been following a vegan diet and that's been a life changing experience for me too!
Certifications
NASM CPT
NCEP
USMC
DotFit Nutrition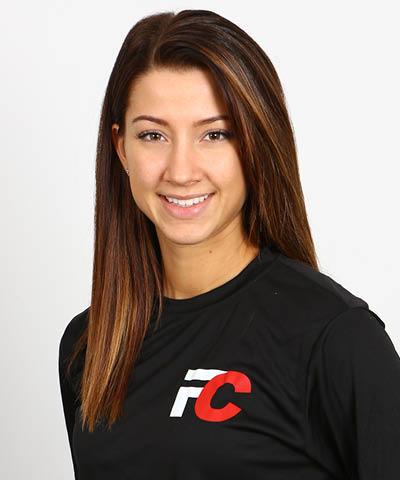 Melissa Griffiths (FitClub North)
FitPro
Melissa Griffiths (FitClub North)
FitPro
I have always had a love for health and fitness - throughout high school I was an all-state athlete, played one year of college basketball in 2012 and have been weightlifting since I was young, but still desired a bigger challenge - so I joined the Army. The discipline in all aspects that I have learned through the military has carried into everyday life. I believe that the most important factor in your health and fitness journey is forming a program personalized to the individual to see results that are sustainable for years to come. I have a passion to see this happen in the world around me!  I am currently finishing my B.S. in Exercise Science for Athletic Training with a minor in Psychology and plan to further my studies in dietetics down the road.
Certifications
Dotfit Nutrition
CPR/AED
NASM Foundations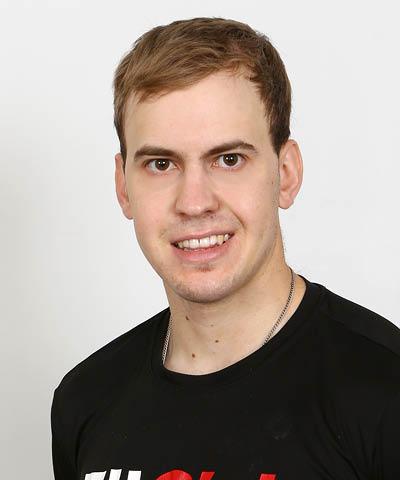 Michael Kelley (FitClub South)
FitPro
Michael Kelley (FitClub South)
FitPro
My name is Michael Kelley and I am a certified personal trainer through the American College of Sports Medicine (ACSM). My love of the gym and strength training began when my dad introduced me to weights when I was 13. Before I began lifting weights I was as thin as a rail and couldn't do a single push up. However, after my dad installed weights in the basement at my house and after a few lifting sessions in the basement I was hooked for life. I believe that regular exercise, whether or not it is done with weights is very important to living a healthy life. It can greatly improve your ability to move, which as a result will make it easier to perform everyday actions such as doing chores around the house or playing with your kids and pets. Best of all, by exercising regularly you just feel better mentally. No matter what your goals are, and no matter if it is your first time in the gym or you have been coming to the gym regularly for many years, you should never be satisfied with what you are doing and should be striving to get better every time you come through those gym doors. Small short term goals such as adding an extra 5 minutes on the treadmill or bike or doing one more rep in an exercise you did last week can go far when it comes to reaching a long term goal. 

Outside of the gym I am an avid baseball fan and love the Chicago White Sox. A former cross country and track runner at Sacred Heart Griffin High School, I was fortunate enough to have run in and to have finished my first marathon in the fall of 2013, which was also my only marathon because I have now become an avid cyclist. I graduated in the winter of 2016 from Loras College in Dubuque, Iowa with a Bachelor's Degree in Psychology and a minor in Coaching. Outside of the gym and off of the bike my hobbies and interests include reading, playing wiffleball, and spending time with family and friends. Every January since 2016, I have participated in a medical mission trip to Nicaragua. While in Nicaragua my job is to play various games such as soccer and kickball with the kids at the clinics and I love it! I look forward to helping members at FitClub reach their fitness goals no matter how big or small they may be.
Certifications
ACSM CPT
Dotfit Nutrition
CPR/AED
LaVerarl "Max" Maxeiner (FitClub South)
FitPro
LaVerarl "Max" Maxeiner (FitClub South)
FitPro
I am the Senior Fitness Specialist at FitClub.  I am a graduate of Eastern Illinois University with a Bachelor's Degree in Physical Education.  I also earned his Master's Degree in Counseling Psychology at Northern Illinois University.  I was a successful coach and instructor at the high school and university level for 34 years.  I came to FitClub in 2002 and managed FitClub West for 5 years.  I am a NASM Certified Trainer and have successfully trained over 200 clients to date.
Certifications
Dotfit Nutrition
CPR/AED
NASM CPT
NASM Senior Fitness Specialist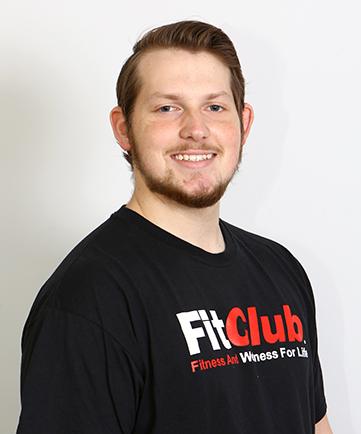 Alex Pryor
FitPro
Alex Pryor
FitPro
My name is Alex Pryor and I am a certified personal trainer with the National Academy of Sports Medicine (NASM). Growing up, I always had a drive to be the best in whatever I did, either in the sports I played, or on stage singing and performing at the Hoogland Center for the Arts.
I was first introduced to fitness and weight lifting when I convinced my brother to take me with him during his workouts. My wish to spend more time with my brother developed into a passion that would start me on the path to living out my life's work. I am currently studying nutrition with the goal of becoming a Registered Dietitian.
When it comes to fitness, I believe there is no one size fits all plan or program. I see the importance of every style of training from bodybuilding, to a holistic full body, wellness approach. I pride myself in the fact that everything I apply to clients I have applied to myself first. My clients know I believe in what I do and stand behind my training 100%.
Whether you are a regular client of mine or another member who is part of the FitClub family, I'm happy to help and I will see you in the gym!
Certifications
NASM Certified Personal Trainer, CPR/AED, dotFIT Nutrition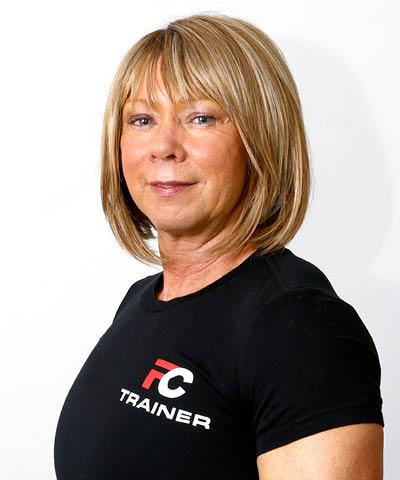 Judy Parker (FitClub South)
FitPro
Judy Parker (FitClub South)
FitPro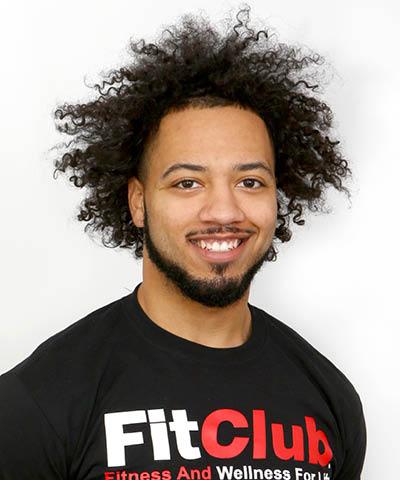 Josh Gabriel (FitClub West)
FitPro
Josh Gabriel (FitClub West)
FitPro
Hello! My name is Josh Gabriel and I am a personal trainer at FitClub West and I am happy to be here! I have been playing sports my whole life starting out in pre-k, and I still love to play sports like rec-league basketball and adult softball. I have played football, basketball, baseball, track and a little soccer and motocross as well. Lifting weights and working out have been a prominent aspect of my life since the 6th grade when I was training to be the best athlete I could be. Lifting continued to follow me into high school and even after high school. I have been a member of FitClub since April of 2016 and I have continued my love for fitness here. I am currently attending Lincoln Land Community College here in Springfield as a psychology major and business minor. I am here to help you get to where you want to be at in your life! As a trainer, I get to mix helping people with my love and passion, fitness and working out. It would be my pleasure to help you get started on your fitness goals.
Certifications
Dotfit Nutrition
CPR/AED
NASM Foundations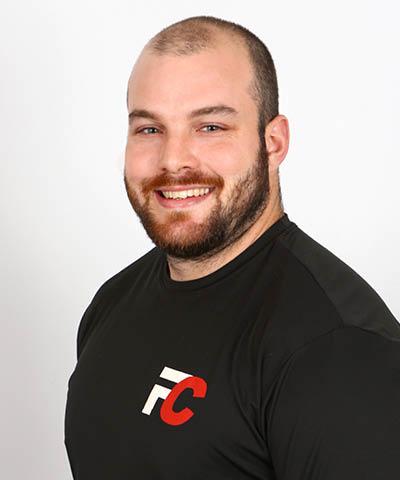 Jake Peters (FitClub South)
FitPro
Jake Peters (FitClub South)
FitPro
Training Philosophy: Put in the hard work and earn everything yourself. There is no easy way to attain your goal, it will take everything you've got to get to where you want to be. When you get there, keep what you've gained or keep moving forward - never go back.
What Clients Can Expect: I use a wide variety of training styles including: high performance, Olympic lifting, suspension training, correctional strength, and more.
Certifications
NASM CPT
NASM PES
PurMotion Certified
Sports Nutritionist
CPR/AED
DotFit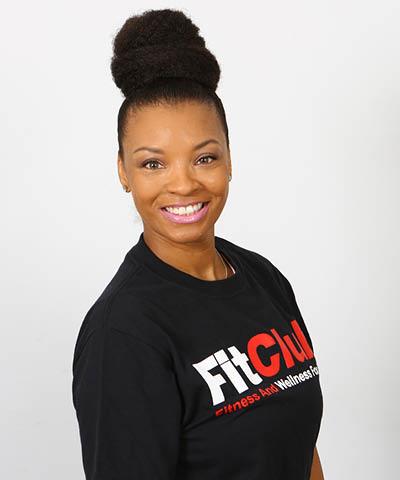 Nessa Miller (FitClub North)
FitPro
Nessa Miller (FitClub North)
FitPro
My name is Nessa Miller. I am a wife and the mother of three beautiful children and now, I am a personal trainer at FitClub North. I am super excited to help my clients reach their health and fitness goals. As a Certified Nurse's Assistant in pediatrics, medical intensive care and geriatrics, I witnessed firsthand the importance of proper nutrition and exercise. I want to help clients beat diabetes, high blood pressure, heart disease and obesity. My passion to help others intensified while working in the hospital as a CNA. My purpose on earth is to encourage and motivate others to reach their maximum potential while improving their overall quality of life. What I love about  proper nutrition and regular exercise is how it benefits our mental state. When my clients start their day, I want them to represent the best version of who they are, mentally and physically.
Certifications
NASM Foundations
CPR/AED
DotFit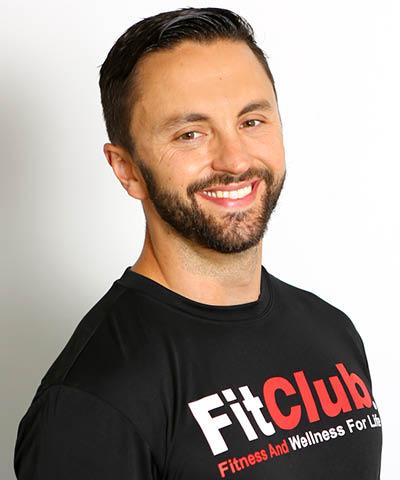 Jordan Vaniter (FitClub West & South)
FitPro
Jordan Vaniter (FitClub West & South)
FitPro
I am a certified personal trainer at FitClub South and FitClub West. I was certified through the American College of Sports Medicine. I've been involved with sports since I was able to walk, specifically baseball and basketball. Weightlifting became a part of my routine when I was about 14 and has been consistent since then. 
I keep it simple. Training does not have to be complicated. I have experience predominantly in strength and conditioning, weight loss through proper programming and nutrition, and improving mobility. The key to health and wellness is establishing and maintaining a routine that is well balanced in all of these areas. It is simple to achieve. I believe it just requires us to put one foot in front of the other, buckle down, and keep showing up. If you see me, feel free to approach me with any comments or questions you may have. I look forward to helping you pursue your fitness goals.
Certifications
ACSM-CPT
CPR/AED
PodFit
DotFit Nutrition
CCNT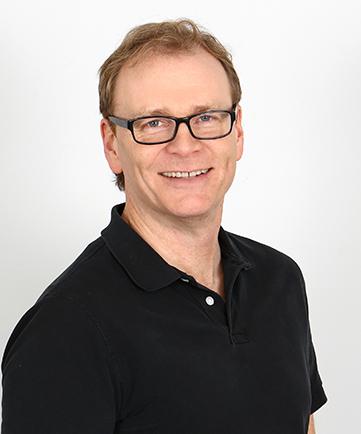 Jim Riley (FitClub South)
FitPro
Jim Riley (FitClub South)
FitPro
After many years as a radio announcer and copy writer, Jim reintroduced himself to regular exercise. After several MORE years of enjoying the health benefits of consistent movement, he realized he'd have to share what he learned with others. Helping people get and stay proactive with their wellness is the most meaningful contribution Jim thinks he can make. So he became a certified trainer, worked in various settings with kids and adults in Bloomington, and now strives to positively impact members' lives here at FitClub.
Certifications
ACE Certified Personal Trainer
DotFit Nutrition
CPR/AED
Caitlin McCarthy (FitClub South)
FitPro
Caitlin McCarthy (FitClub South)
FitPro
I have been a certified personal trainer for the past nine years. In 2009, I graduated from Illinois College with a bachelor's degree in Physical Education, and a minor in health. I have always been a very active individual. I grew up playing softball, basketball, volleyball and soccer. I was a member of the college basketball team. In 2014, I had a major hip surgery. This opened my eyes to the importance of flexibility, muscular strength, core balance, and cardiovascular endurance. 
     I love helping clients train for running events. I have trained with individuals ranging from age 11 to 83 years old. I have trained individuals who play softball, baseball, volleyball, basketball, soccer, and track. I have guided a client to lose 108lbs, which was very rewarding for both of us. I always stress the importance of daily water intake, and proper nutrition. If you don't put the right fuel in your body, you will not see the results you're looking for. It's the coolest feeling to watch a client grow. Whether it's losing inches/weight, or lifting more weight than you ever imagined you could do, I would love to help you accomplish your goals.
Certifications
NASM CPT
Dot Fit
CPR/AED
Corrective Exercise Specialist (CES)
NESTA CPT
NESTA Fitness Nutrition Coach
Kickboxing Fitness Trainer
Spencer Institute Sports Psychology Coach
CCNT
NFPT Plyometric Trainer